Five things I want you to know about your father.
He loves you fiercely. You and he spent the first hour of your life alone, just the two of you, and he tried valiantly to soothe your cries for me. I know he was scared but his overwhelming love for you carried you both through until we could all be together again.
He is rather fond of cheese and not the dairy kind (you can already eat a stronger Cheddar than him but shhh!). He specialises in a really cheesy line of jokes and has a huge fondness for "aggravating" as he calls it (I have another word for it but it's not suitable for your ears at the moment!). At the moment you think he's the funniest, coolest person on the planet but when you're older you will find this side of him incredibly embarrassing. It will change, just grit your teeth until you get to the other side.
He may not have the patience of a saint and may be a grumpy bear if he has to get up in the night but there is nothing he wouldn't do for you. He has rocked and calmed you, tucked you in and peeked in to check on you when he gets home.  He speaks to you on the phone every lunchtime at work and looks forward to your Saturday mornings alone together all week.
Your loud voice, confidence at the physical stuff and the ability to shove an alarming amount of food in your mouth in one go all come from your Daddy, along with your gorgeous blue eyes and a million other things. You two are very similar in a lot of ways and at times you are a real Daddy's girl.
Your Daddy is many things; funny (but don't tell him I said so), hardworking, impulsive, kind, doesn't always think things through, gives you far too may sweets and biscuits when it's just you two, addicted to bad TV shows, has terrible taste in music and a fondness for chavvy clothing but above everything he is a good man. Someone you can rely on to always be there for you, who will be your rock and who you can be proud to call Dada.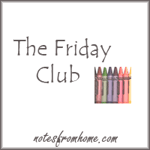 I'm submitting this to The Friday Club carnival, hosted by the very lovely Ella from Notes from Home. Why not pop along and see what other people are saying? 
If you liked this then you might like: